If you want your product to benefit from the enormous volume and variety of data available from all vehicle's ECUs, we can help with mobiChip.
Our modular design allows us to easily take any component of our solution and customize it for your specific requirements. One such component is the chip responsible for communicating with vehicle's ECUs, i.e. mobiChip.
mobiChip allows you to communicate with all the vehicle's ECUs without investing years of R&D into understanding and implementing each manufacturer and specific car's language.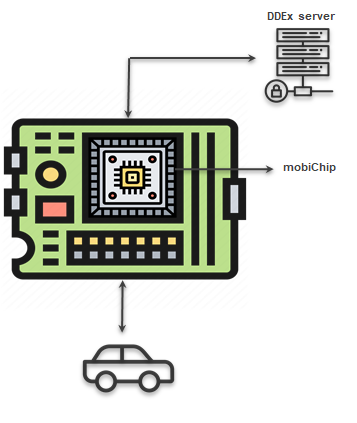 What is mobiChip?
A chip + set of libraries and protocol files enabling companies to Communicate with vehicle ECUs
Who is mobiChip for?
Connected Car and Telematics companies
Which cars/ECUs?
Access all vehicle's OEM data on all ECU (Engine, Airbag, Body, etc) for more than 40+ vehicle makes
How mobiChip Works?
With your own MCU & without previous knowledge of vehicle ECU communication protocols
How is it done?
You put mobiChip into your next design,

You let us know which car and systems you want it to communicate with on each device,

We will send all the required protocol files, encrypted for that single device

You start talking to the car with simple commands and libraries we have supplied to you
Most importantly, all the communications between your device and our servers are managed by secure APIs.
Below is a simplified diagram to show the steps.